We've always found that the toughest group to shop for is our Super Seniors.  In part, it's because their interests and tech awareness run the gamut from tech embracers to tech avoiders. So this year, in addition to our own picks we've teamed up with Hammacher Schlemmer, perhaps the world's most famous repository for creative gifts to recommend great products for our special Super Seniors.
Multi-Function Cooker – Gourmia GMC700 Supreme 8-in-1 Digital Multi-Function Cooker Many of the Super Seniors we know continue to live very active lives, off to social engagements, group activities, and so on throughout the day. So who has time to linger over a stove? With this they can put their ingredients together, go out for the day, and return home to a hot, delicious meal. The Smart LCD Display offers pre programmed modes to ease the cooking process. They can watch their next meal boil, grill, fry, steam, fondue, roast, stew, and warm to perfection through the glass cover. Get it for $69.99 from Amazon.
Senior Tablet – GrandPad – Social isolation can be a major quality of life issue for Super Seniors, especailly those living alone. And not everyone is comfortable with Skype or Facetime. The GrandPad Tablet is a technology solution for seniors that connects them with family, friends, and the digital world. It is preconfigured with apps designed for seniors, making the device extremely simple and straightforward to use. There are no passwords, Wifi concerns, wires, or cables to alleviate any potential frustrations. The senior in your life can start their free 30-day trial here.
Reading Glasses – Thinoptics Folding Reading Glasses – Both my wife and I are constantly misplacing our reading glasses.  Her solution is to leave multiple pairs all around the house. My solution is Thinoptics.  These are reading glasses for on-the-go seniors. They are designed to be extremely lightweight and thin eliminating the need for a glasses case. So they need never be without their reading glasses now that they can easily fit in a wallet, handbag, and pocket or they can attach to a cell phone case. They come in several strengths and a variety of cases and colors. The universal pod and two glasses cost $19.95 here.
Tablet Stand – Flipy 5042626 Multi-Angle Soft Stand for Tablets, E-Readers, Smartphones – Reading in bed is something that many of us enjoy, but increasingly traditional books are being replaced by tablets, and sometimes it's tough to find a comfortable way to read one while lying in bed. The Flipy Multi-Angle Soft Stand is unique in that it is a flexible, yet sturdy tablet pillow compatible with a variety of tablets, e-readers, and smartphones. Available on Amazon for $39.98.
Senior Friendly Remote Control – Flipper Big Button Remote Control – Having multiple remotes with endless buttons can quickly get frustrating for seniors and deter from their overall viewing experience. The Flipper Big Button Remote completely removes all confusion by combining both TV and cable controls into one remote.  Additionally, the Flipper makes the viewing experience easier for those with low vision, blindness, dementia, and other challenges. Available at Amazon for $29.95
Retro Style Internet Audio System – Como Audio Duette Music System – This is a simple, flexible, and full sounding modern audio system with very retro and vintage feel. The wood veneer exterior will bring your senior right back to the 1960s, yet the sound quality and variety of music sources are current. And yes, it's also an alarm clock. While it's easy to operate, your super senior may need some initial help in finding the right mix among the thousands of options out there. This is a great gift for the music lover who wants to keep the music close.  Get it for $349 from Amazon. 
Home Security System – Guardzilla 360 – If you worry about how your super senior is doing, then the Guardzilla security camera takes unobtrusive monitoring to the next level with this 360 view of the room or area they want to watch (we reviewed it in October). It works in tandem with the Guardzilla companion app, so they are in complete control with the push of a button on their smartphone. The PIR motion sensors detect and record any movement, instantly sending a phone alert. And it has two-way audio so you can communicate with your senior in case of a problem. Price is $229 at Walmart 
Scale – qardioBase Connected Scale – One big key to not just aging, but enjoying getting older is staying fit. The qardioBase scale offers a variety of weight and body composition measuring health features to provide your super senior a complete health picture. This sleek, circular scale tracks weight, BMI, and body composition (muscle, fat, water, and bone percentages), yet also provides encouraging feedback with smiley faces. Get it for $129.99 from Amazon.
Listening System – Sennheiser TV Listening System – Seniors tend to spend a fair bit of time in front of their television sets. But no matter how big the screen or how sharp the picture, it's often an impaired audio experience that gets in the way. Many of us find it difficult to make out the audio in dialogs or have problems with extraneous noise. The  Sennheiser TV Listening System solves the problem. It provides those with hearing challenges with crystal-clear sound without feeling isolated. The Set 880 lets them individualize their listening experience according to their needs.  Price is $299.95 USD and it is available from hearing aid dispensers.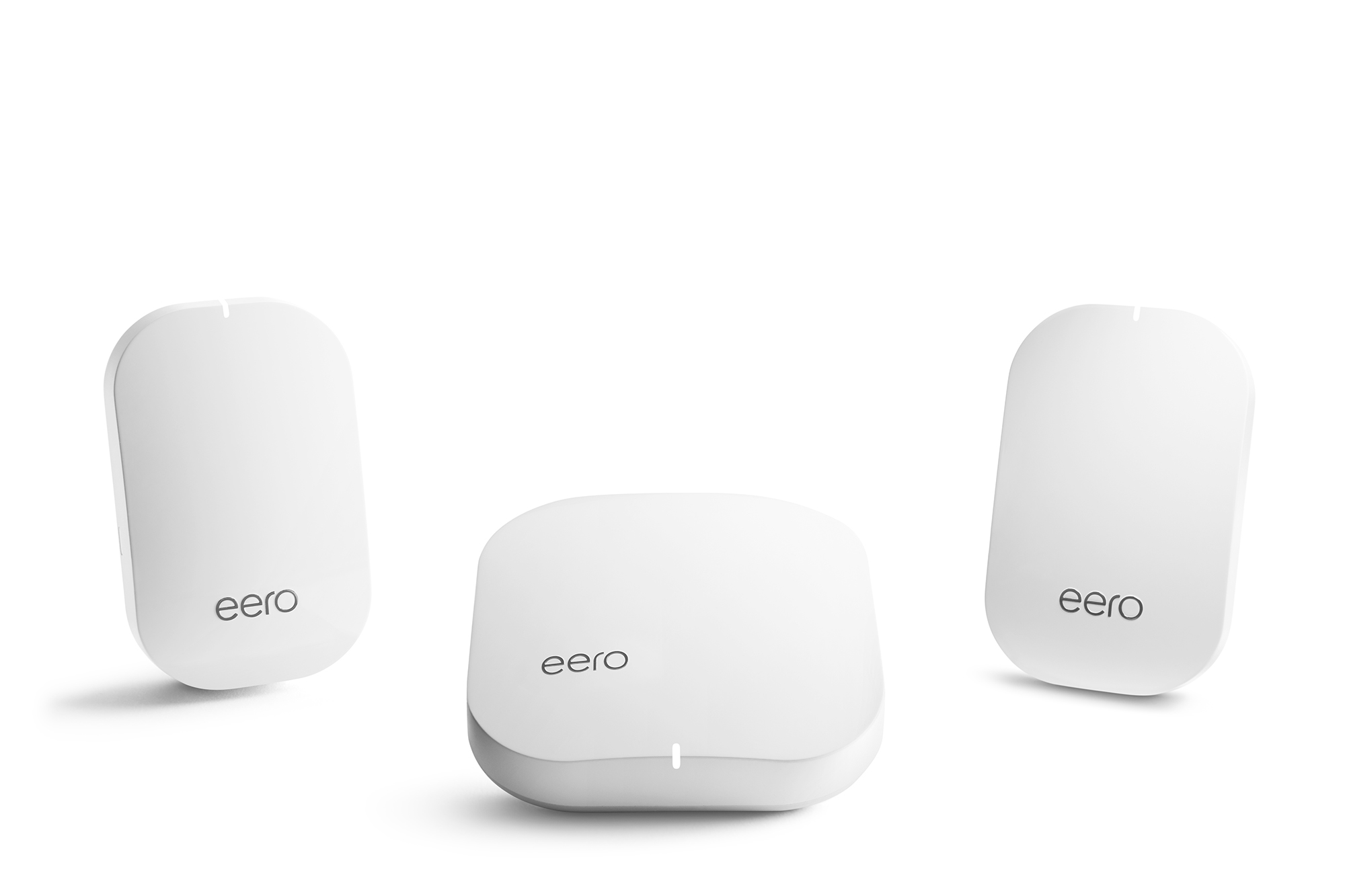 No Worries WiFi – Eero 2 Wireless Router Home Wifi System – Your super senior won't have to worry about WiFi in the house with this very easy to setup system. The Eero 2 Wireless Router Home Wifi System is a mesh-based system. That means taking a tablet with a movie from room to room without ever missing a beat. The kit includes a base station that hooks to the incoming service and two smaller mesh units that can go almost anywhere in the home. Eero 2 requires minimal management or configuration. Available for $306.12 from Amazon.
Golf Rangefinder – TecTecTec VPRODLX 1K – Many Super Seniors are still avid golfers, often having moved to golf communities in warmer climates just to get on the links every day. But as they age, it gets tougher to judge the distance to the pin. That's where a good rangefinder comes in handy. The most technologically advanced laser rangefinder from TecTecTec, the VPRODLX 1K can accurately measure distances up to 1,000 yards and is precise within one yard. The premium, multilayered optical lens combined with diopter adjustment and 6x magnification provide an ultra-clear and accurate view. It features three scanning modes for every situation to help players measure distances to the pin, hazards, etc. – Pinseeker Mode, First Target Priority, and Continuous Scan Mode. Available in Standard and "S" editions (which features PinSlope Technology to calculate elevation-adjusted distances to the target), both are lightweight (0.41 lbs), durable and waterproof. Available at Amazon starting at $179.99
Senior Friendly Smart Phone – Jitterbug Smart  – The notion that super seniors can't or won't use a smartphone is just another urban myth. Many seniors are really happy with the connectivity a smartphone offers, but they may be challenged by the readability of icons on some of the big name brands. The Jitterbug Smart gives them the functionality they want with an easy-to-use design. Its 5.5" screen is large enough and makes the Jitterbug Smart easy to read with the apps presented in a simple list style menu. This is a great way for your senior to connect with family and friends The Jitterbug Smart is on sale right now for about $75 and a basic monthly plan starts at $19.99.
Listen Closely – Soft-Tones personal pillow-top speakers were originally designed by 2breathe Technologies for its 2Breathe sleep-inducing device, which helps people breathe in a way that relaxes their bodies into sleep. (We reviewed it last January.) But the talking program bothered the other person in bed, so was born the pillow speakers. However, they can be used to listen to anything: music, podcasts, books, as you relax in bed, without disturbing a bedmate, and not just the relaxation program. They are covered with a hypoallergenic, washable fabric and no additional power is required. $49.95 direct or on Amazon.
Aromatherapy – Relaxation Aromatherapy Orb – Help your senior find a state of relaxation with the combination aromatherapy and music. The Relaxation Aromatherapy Orb diffuses a soothing, fragrant mist while playing calming music of your choice. Treat your senior with the ultimate at-home spa experience that is wirelessly compatible with all smartphones and tablets. The orb is available at Hammacher Schlemmer for $69.95.
Heating Pad – The Heated LED Back Pain Reliever – Don't let chronic back pain get in the way of your senior's everyday life. With technology developed by NASA, the Heated LED Back Pain Reliever is a flexible wrap that uses red and infrared lights to soothe and alleviate back pain. This flexible wrap can easily be used to treat knee, shoulder, arm, or leg pain and much more. Get it from Hammacher Schlemmer for $199.95.
Pain Relief – The All Night Chronic Pain Reliever – Does your senior ever lay awake at night due to chronic pain preventing them from getting a good night's rest? The All Night Chronic Pain Reliever is a device designed to send harmless electrical pulses stimulating nerves. They can wear the comfortable strap around the calf to promote pain relief and decrease the need for pain meds. The strap's Bluetooth allows them to track their progress and manage their treatments on their smartphone. Buy it from Hammacher Schlemmer for $249.95.
Personal Listening System – The Voice Clarifying Amplifier –  Help your senior knock out the fear of missing parts of conversations with the Voice Clarifying Amplifier. This small digital earpiece clarifies voices and amplifies human speech. The earpiece is virtually undetectable and easily fits in the ear canal. Its recharging capabilities eliminate the need for replacement batteries. At Hammacher Schlemmer for $299.95.
Television Speakers – The Voice Clarifying TV Speaker – One of the most consistent complains we hear from super seniors is that they have trouble making out conversations in television programs.  The Voice Clarifying Speaker eliminates the need for voice amplifying earphones that can improve dialog but are isolating. It attaches to the audio ports on their television or cable box to intensify voice pitch so words are easier to understand. This is the perfect gift for those with mild hearing challenges or who want to improve their overall in-home entertainment experience. Available at Hammacher Schlemmer for $199.95.
Digital Photo Converter – The Best Photo Converter – If your favorite super senior is like many others, there's a good chance they have boxes or drawers full of a lifetime's worth of photographs.  Hammacher Schlemmer labels this "The Best" because the converter can scan photos, mounted slides, film negatives, and much more. Its 12 MP CMOS sensor produces prints with vibrant colors and the touchup technology sharpens details while removing dust and scratches. The net result is a lifetime of memories in a form they can enjoy and share with the entire family. Buy it for $199.95 from Hammacher Schlemmer.
Emergency Radio – The Best Emergency Radio/Charger – When the power goes out it can be annoying for most of us, but frightening to a senior, especially one living alone. A radio is a must-have item in the event of an emergency or natural disaster. With the clearest reception and longest playback time, The Hammacher Schlemmer Institute gave this radio "The Best" rating out of all the emergency radios they have to offer. While most emergency radios run for only one hour and 30 minutes, the Best Emergency Radio lasts five hours after a full charge. Users can set multiple weather alerts (up to 49 types) at once across several states and countries. Additionally, this radio comes with USB port to support all charging needs. Other features include an LED flashlight, built-in solar panel for supplemental power, and the entire device is completely water-resistant. Price is $99.95 from Hammacher Schlemmer.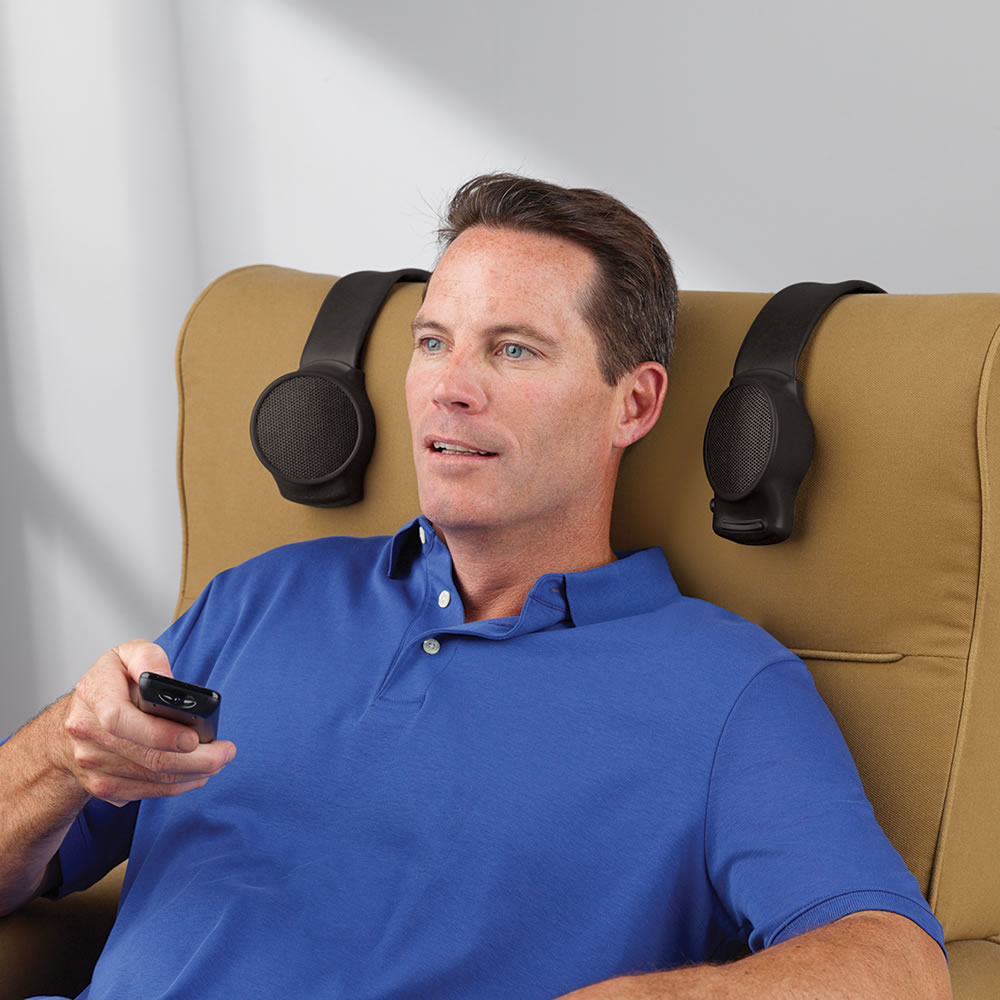 Television Speakers – The Armchair Wireless TV Speakers – Here's still another way for your senior to create a surround sound entertainment experience from the comfort of their own couch or chair without disturbing others.  The Armchair Wireless TV Speakers attach to the backrest of a couch or chair and are tilted inward to provide crystal clear audio to the viewer. They are compatible not only with televisions, but with laptops, smartphones, and tablets while eliminating the need for earphones. Price is  $249.95 from Hammacher Schlemmer.
Multi-Function Clock – The Best Projection Clock – Waking up unexpectedly in the middle of the night can be a disorienting experience for seniors and often the first thing they want to know is "what time is it?" The Hammacher Schlemmer Institute rated this as the Best Projection Clock because of superior projection quality and accuracy. This clock projects both time and weather forecast in clear, easy-to-read digits up to six inches in size on the ceiling or wall. Other features include indoor and outdoor temperatures and the ability to set multiple alarms. It is available from Hammacher Schlemmer for $89.95.